Hello golfers! Sequoia Woods Women's Golf Club (SWWGC) is a group of women who enjoy playing 18 holes together during our golf season (April – October). We are organized under the Northern California Golf Association (NCGA) to arrange tournament and competitive play, to provide and enforce uniform handicapping according to the USGA GHIN system and to further the best interest of golf among women.
In addition to our regular Wednesday play days, we host many special events each season, such as our two day Member/Guest Invitational, Member-Member tournament, Sadie Hawkins event, Men vs. Women, SWWGC Host The Sequoians, and Trilogy tournament, along with our Match Play Championship and Club Championship.
One of the benefits of membership is that we are also eligible to play in WGANC Tournaments and Open Days. These events are held at clubs throughout Northern California and offer the chance to play great courses at nominal cost.
If you are interested in joining, you must be at least 18 years of age and a member of Sequoia Woods Country Club and the NCGA. You must have a GHIN handicap index of 40.4 or less. Differentials indicating an index of more than 40.4 are allowed, but the member must play to no more than a 40.4 index. If you would like more information, please call or email our membership chair and captain,
Sharon Tussy: sharontussy@gmail.com 209-484-7634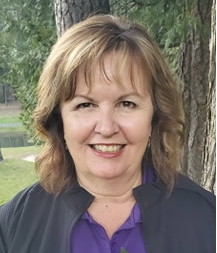 Sharon Tussy, 2020 Captain