Sequoia Woods Country Club is located in the Sierra foothills a little over one mile off Highway 4, just past Arnold. From Highway 4 east of Arnold, turn right onto Moran Road at the Blue Lake Springs junction. Go down Moran about 3/4 mile; turn left at the Sequoia Woods sign at Blue Lake Springs Drive. Take the next right on Meadow Drive and right again on Cypress Point Drive. The clubhouse will be on your right with ample parking to your left just past the clubhouse.
It's an easy two-hour drive from Sacramento and less than three hours from Fresno and most of the Bay Area. The drive is a pleasure through rolling hills, oaks and pines - Calaveras County at its best.
Venture out to higher ground. You'll never regret you did.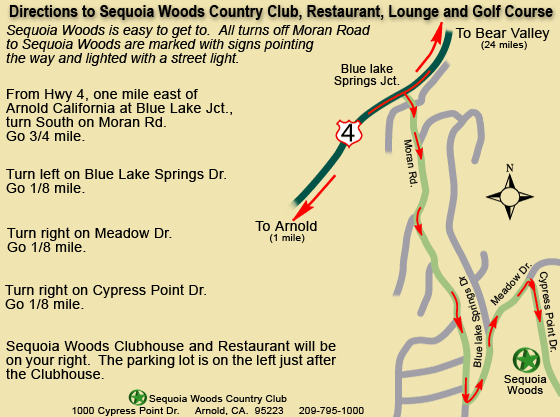 Please click below for a printable map and directions